Apps - Word Peril
Because it's time for a NEW challenge

So you've got a smartphone or a tablet, you like word games, but you're not interested in weeding through all of the options in the App Store or Android Market spending lots of time and tens of dollars?
In these tumultuous economic times, Word Peril offers an affordable and (in our humble opinion) superior solution! Try our
FREE
Android or
FREE
iOS app! Need more details? Say no more...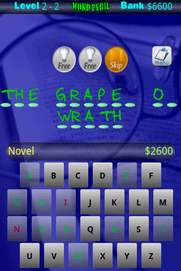 Word Peril combines elements of many game genres and packages them into an extremely simple yet highly addictive word game. You begin $2,000 virtual dollars. You guess any letter you please, including vowels (in fact we recommend it).

If you get a correct letter you earn an additional $100. if you guess an incorrect letter you go down $400. You have the option to use tokens as you wish, there are two 'free letter' tokens as well as a 'skip puzzle' token if you're really in a bind.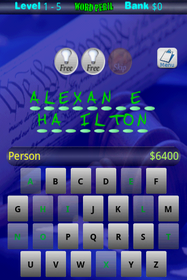 Word Peril contains hundreds of puzzles with almost every topic imaginable covered. We've got the biggest sports names, the most famous entertainers, literature from all eras, historical events and famous quotes, as well as social networking sites and popular TV shows. And it's FREE! Sow hat's not to like?
You can find us in your local
iTunes App Store
or
Google Play
.